TIMETABLES

Our Current Timetables

Dent station, Dent, Sedbergh, Oxenholme and Kendal

Dent, Sedbergh, Oxenholme and Kendal

Dent, Sedbergh, Garsdale, Hawes
Finished for 2023 (Summer only) Friday only
S4 NO LONGER RUNNING

Sedbergh, Kirkby Stephen, Tebay, Kendal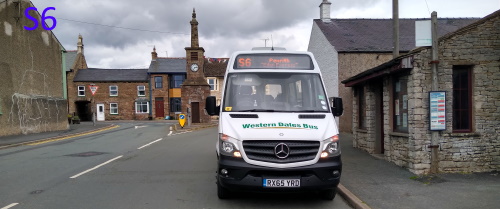 Kirkby Stephen, Brough, Warcop, Penrith
Download the full timetable PDF leaflet All services - Summer 2023 - from April 1st 2023 - September 30th 2023
Download the full timetable PDF leaflet All services - Winter 2023 - from October 2nd 2023 until further notice
Please note: Our timetables only contain times for principal stops. We stop at all recognised bus stops (e.g. Oxenholme station) on route and indeed we will stop anywhere that the driver deems safe and reasonable. Please just hail us!
Timetables change history
01/04/2023
The Western Dales Bus summer timetables started on 1st April 2023 and contain several changes.
S6 Tuesday and Thursday: Kirkby Stephen to Penrith.
The S6 Tuesday service will be unchanged, but from 4th April it will also run on Thursdays. This is because the high demand for the Tuesday service has meant we have often had to turn passengers away when the bus was full. Running the service for the extra day will increase the opportunities for passengers to visit Penrith, and will also give passengers from Brough four opportunities each week to visit Kirkby Stephen.
S5 Wednesday: Kirkby Stephen to Kendal.
To do this, from 5th April we are moving the S5 Thursday service to Wednesday, Kendal's market day. This will maintain access to Kendal for passengers from Kirkby Stephen and villages along the route, as well as continuing to provide a weekly service between Kirkby Stephen Station and the centre of the town.
S4 Friday: Sedbergh to Brough.
Very few passengers use this service, apart from those travelling within Kirkby Stephen itself, or between Brough and Kirkby Stephen, so it will cease to operate after 31st March. The changes to S6 and S5 maintain the present opportunities for those who live near Kirkby Stephen station and increase opportunities for passengers from Bough.
S3 Friday: Sedbergh to Hawes (summer only).
This will run on Friday this year, starting on 14th April, thus avoiding early closing day in Hawes.
S1 Saturday: Dent Station to Kendal.
The only change on this route is the addition of a return journey to Dent Station, leaving Sedbergh Post Office at 18:55.

Submenu